An amphitheater and 1,200 olive trees.
Ewpressing oneself. The pure dream of oil
"The Field of olive trees" is my special creature. Guarded by two rocks, it encloses this small valley sheltered by a circle of hills. Here I put my 1200 olive trees: protected by a natural amphitheatre that surrounds them, enjoying the sun and breathing the scent of the sea when the crisp air of the mid-seasons or the summer breezes from the nearby Adriatic sea reach the Friulian plains from the lagoon of Grado and Aquileia, up to the silver-green terraces. The oil pressed from these olives becomes an accomplice of the wine. Enjoy it. This is my extra-virgin thought. Michele Moschioni
My pure thoughts.
The oil from these olives becomes an accomplice of the wine. Enjoy it.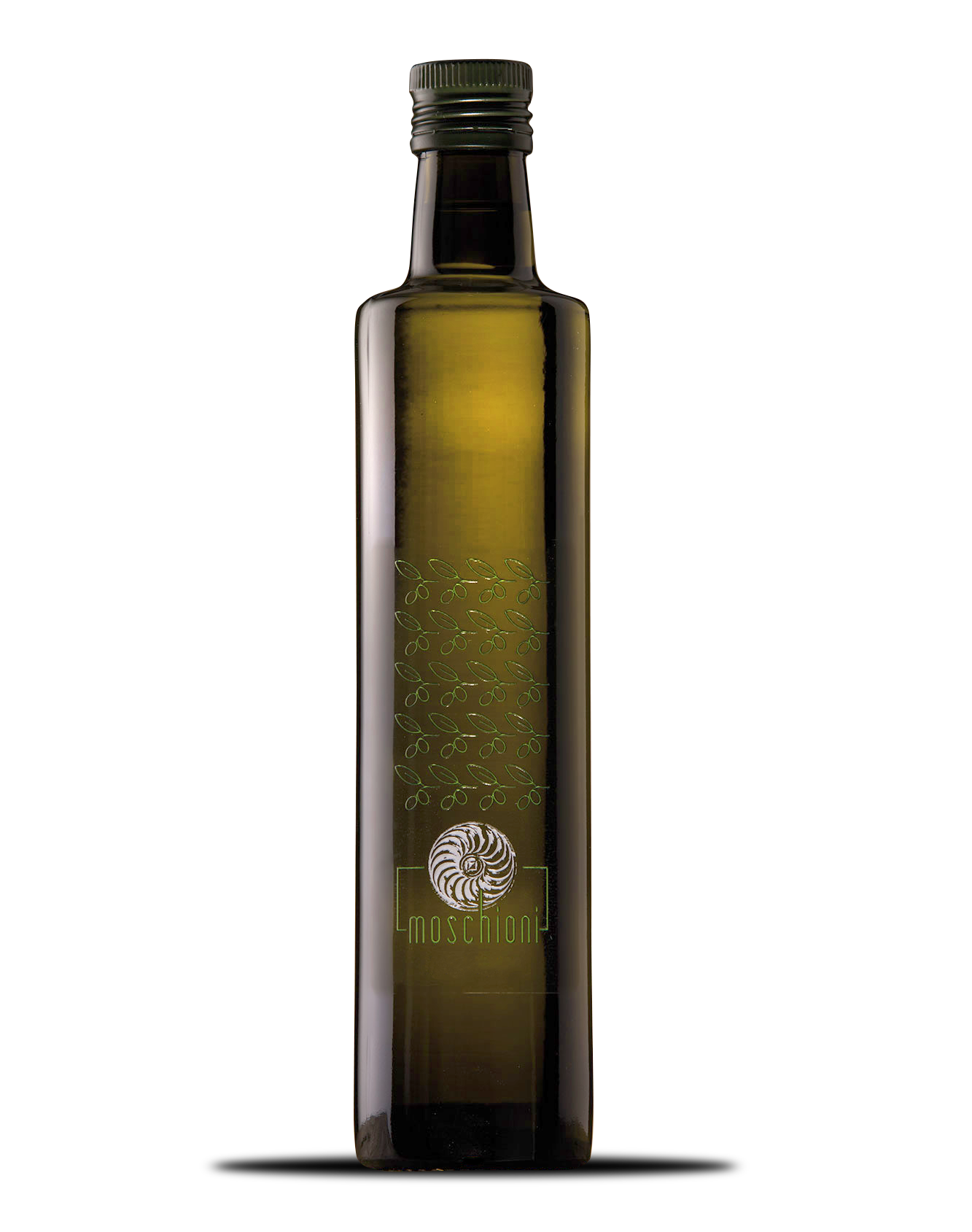 Moschioni Blend
Moschioni extra virgin olive oil expresses the harmonious personality and the perfumes of the seven cultivars that it is made from: Bianchera, Leccino, Frantoio, Moraiolo, Leccio del Corno, Pendolino, Coratina. The olives harvested in the month of October all originate from our "Oil Field" and are the best guarantee of a genuine and healthy product, ideal for enhancing the local dishes on our tables. Our olive trees thrive on a land that is managed with the utmost respect, using organic fertilisers and no herbicides. The annual production is of only 1,000 bottles.
Bianchera: celebrating a monocultivar
Moschioni Bianchera adds the delicacy of a perfumed apple to the classical artichoke aroma to give a perfect balance of sweet, sour and hot spicy pepper. A fruity oil that is ideal for making smooth creamy asparagus soups in the spring. Just a few drops are enough to enhance and make a steak or a typical Friulan fillet of smoked trout absolutely unforgettable. In winter, traditional bean soup with a little Bianchera can turn a simple dish into a trend!